Q&A
This Q&A has been prepared to answer questions about PHederation and related topics.
PHederation - the Pulmonary Hypertension federated network of real-world data assets.
What are Real-World Data (RWD) and Real-World Evidence (RWE)?
Real World Data is health data being recorded in the real world under everyday circumstances, as opposed to a clinical trial. This data could be generated by anyone active in the healthcare system, e.g., physicians, patients, administrative personnel, etc. It is usually held in hospital and GP electronic health record systems, and by patients in personal health records and various apps. When Real World Data are analysed and interpreted, the new evidence (knowledge) generated from this is called Real World Evidence.
PHederation MAKING A DIFFERENCE
Healthcare Professionals and Patient Community​
Demonstrate use of risk assessment, at baseline and one year in patients with pulmonary arterial hypertension​

Evidence of short and long term outcomes given different treatment strategies​

Analysis evaluating methods associated with high PAH medication persistency and adherence rates​

Early diagnosis algorithms in EHRs using advanced analytics – identify patients earlier ​
Improve R&D / regulatory discussions​
Regulatory discussions to use RWD as external controls in RCT​

Regulatory scientific advice to plan for RWE based analyses to be available at time of submission / provide context to completed clinical trial​
Improve access to treatment / reimbursement​
Humanize / Demonstrate PAH burden of disease/Healthcare resource use in national databases​

Long term outcomes by FC in across RCTs and Registries – meta analysis
The PHederation network is based on the principle that participants have local governance and keep control of their own data at all times. The original source data is locally transformed to a common data model structure. With the PHederation setup, the subject level data in the common data model structure is not shared and stays local. Participating sites don't need a physical connection with the central platform: the actual analysis is carried out locally and analysis results are only shared with the central PHederation portal upon explicit interaction from the participating site. Also, for the exchange and storage of results, PHederation is ensuring proper data protection: results are transferred to the PHederation portal using the highest security standards. Also, once the results are stored at the portal itself, they are protected by encryption.
What is OMOP Common Data Model?
Pre-requisites for each data asset
Each data asset need to agree on transforming their data into the "Observational Medical Outcomes Partnership" (OMOP) "Common Data Model" (CDM)
https://www.ohdsi.org/data-standardization/the-common-data-model/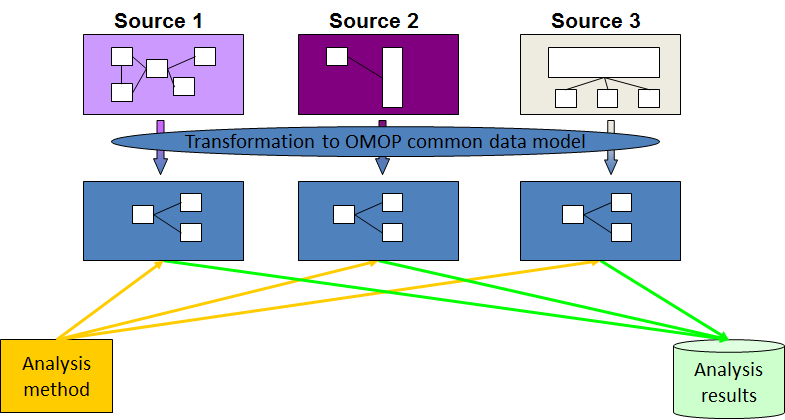 How is patient privacy protected?
The entire PHederation platform is specifically designed with patient privacy in mind. Firstly, all local data are pseudonomised, and in most cases, only aggregated and/or anonymised results are exchanged within the central PHederation portal. No external access to this data repository is possible.
The transfer of results happens over a secure connection, and on the portal itself, results are encrypted and only accessible to the researchers who participated in the study. In all circumstances, the applicable data protection rules and regulations are complied with and appropriate privacy safeguards are put in place.
Didn't find the answer to your question here? Feel free to contact us via e-mail
We will use your information in accordance with our Privacy Policy to respond to your inquiries and fulfill your requests as necessary for our legitimate interest and possibly to comply with our legal obligations relating to pharmacovigilance or product quality.
REFERENCE: 19016998 | DATE OF PREPARATION: DECEMBER 2019